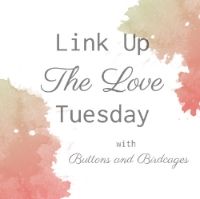 There often don't seem to be enough kind words in the world. Miche of
Buttons and Birdcages
is striving to change this problem one blog post at a time, with her brand new and awesome "Link Up the Love Tuesday" blog link up! If you'd like to join in, click the button above--all you have to do is write some kind words about someone, anyone!
Weekly Love
I have a few people I would like to send some love to this week. These are not people who will ever know I've made this post about them, but I hope the good vibes find their way to them.
To the very vocal lady on the subway a few days ago: While I can't say I love people trying to convert me, I really appreciated a lot of what you were saying. Between all of the "Jesus sent me here to save you," you were talking about loving yourself the way you are, striving to better yourself, and not letting other people control your emotions. Those are all things I should remember, and your voice helped me with that. And you dealt so well with all of the rude people who were telling you to be quiet. Plus, your outfit was spectacular--lilac blouse and pearls with a matching white Bible? Epic look.
To the women who thanked the vocal lady on the subway: Part of me wanted to go up and thank that woman for her words and courage to share her thoughts, but I also didn't want to open myself up to being asked about my religion. So I was really happy to see two women, very businesslike and probably between forty and fifty years old, thank her for spreading such positive ideas. Whatever their religious beliefs, they were able to do what I was not.
To the street musicians I see on the street and in the subway stations: Your various musical talents and skills cheer up my commute. That's not an easy job, so thank you for coming out every day to make the world a little nicer.
This post should probably be titled "Weekly Love: Subway Edition" haha. Whoops! This link up also reminds me of Nerdfighters--those who work to decrease world suck. If you don't know what Nerdfighting is, I encourage you to check it out (it's been on my mind since the release of The Fault in Our Stars, because the book was written by one of the founding Nerdfighters).
Who would you like to send some love to this week? Be sure to link up if you'd like to write a post about it!