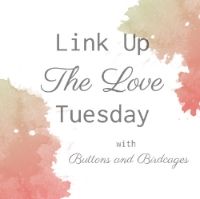 It's time for week two of some love-expressing! For those who missed
my post from last week
, here's a recap of the link up: Miche of
Buttons and Birdcages
is striving to increase the love one blog post at a time, with her brand new and awesome "Link Up the Love Tuesday" blog link up! If you'd like to join in, click the button above--all you have to do is write some kind words about someone, anyone!
Weekly Love
This week, I'm focusing on people I've encountered through my three jobs (as a sales person, a college tour guide for my college, and a camp counselor).
To the customers who tell me they love my hair:
Thank you, thank you, thank you. My curls are something I'm a little self concious about. In fact, I used to really hate them before I realized some better ways to care for them (you can read a little about that journey
here
). So while I may get a little flustered and not really know how to handle that compliment, I really do appreciate it.
Specifically to my coworker Brian, who always says I look like a twenties starlet, Mary Pickford:
I cannot even express how much of a compliment this is! I love the twenties, although I would have been a terrible movie star.
To the several families that thanked me for giving a great tour: Maybe you all were just being polite, but when I was hired to be a tour guide I wasn't confident in my ability to be successful at it. Hearing that I'm doing well always makes my day, and I love helping you decide if this school is or is not for you!
To my fellow camp counselors and directors: I can't wait to work this summer with everyone! I especially love how every training, there are multiple people who are just bursting with enthusiasm. Sometimes I've had a long day and can't muster up all that energy myself. It's extremely helpful to be able to feed off of the excitement of those around me while learning how to make this summer a great one for countless kids!

Who would you like to send some love and thanks to this week? Let me know in the comments or write your own post and link up!